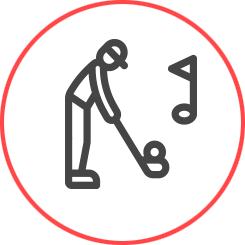 Golf
Features & Benefits

Golf module is an exclusive POS for golf clubs.

The system is a comprehensive set of tools that covers every aspect of golf club activities and management.

The member can access a plethora of options like playing or practice sessions.

The billing options are flexible enough to provide and charge activity specific details and cost.

A configurable rule based system can be created based on member privileges, access privileges, seasonal options, work day or weekend and also with day or evening preferences and the entailing billing options

Game and tournament management is also part of the system which supports booking, organizing and even score uploads for records.

Exclusive on field consumable reports like golf ball sales report can be generated.

Extensive report generation options include coaching, member, non member or guest reports based on their participation and utilization.
Copyright © 2023 All Rights Reserved. Clubman